I Declare War Starring Pastor Troy
On the battlefield with 24 solo albums within his arsenal, commanding the D.S.G.B. Army, here is Pastor Troy declaring war on these untrained adversaries in Hip Hop today. Born on November 18, 1977 in Augusta, Georgia. His father was a Haitian-American drill instructor turned pastor. Pastor Troy graduated from Creekside High School, and attended Paine College in Augusta, Georgia, before deciding to fully pursue his rap career. As you hear the intensity of how Pastor Troy knocks off his adversaries with the verbalistic homicide he delivers on the mic, you yourself will be able to feel the adrenaline pumping in your system while the 808 beat.
Pastor Troy released We Ready (I Declare War), his debut album in 1999 around the same time he dropped a verse on that "Get Off Me" off of Luda's commercial debut Back for the First Time album. This soulja is the front man of the rap group D.S.G.B. (Down South Georgia Boys), which was originated in Augusta, Georgia. He was also featured on "Throw it Up" off of Lil' Jon's Kings of Crunk album. Then Troy and Lil' Jon reached the top of the charts in the south with "Vice Versa" and "Throw it Up". Since being in the industry, Pastor Troy has been in war with Master P, Lil Scrappy and The BME Click, and Sno, with whom he has since came into a treaty with. In 2002, He launched off that Universal Soldier album (#13 on the Billboard 200 charts) which became popular in the South with the song "Are We Cuttin'" featuring Ms. Jade, which was also featured on the action film XXX soundtrack that year.
The next year ('03), Troy appeared on Young Jeezy's independent debut album Come Shop wit' Me on the track titled "GA". PT later released one of his more commercial albums, By Any Means Necessary, in 2004. This album included the hit single "Ridin' Big". Following this objective, Pastor was released from his contract with Universal because they wanted him to go POP (Just to keep it G). He then dropped that Face Off II, which addressed some issues with Scrap and BME, adding new songs along with remixes from some of his previous hits. In '05, he appeared on that "Southern Takeover" with Killer Mike off of Chamillionaire's The Sound of Revenge commercial debut.
"As a soldier progress in his combatitives, he must be able to eliminate more foes that before during time of war" - V Dot Nam. Like pearl harbor, PT dropped 3 deadly albums in 2006, one following the other as followed: Stay Tru (#150 on the Billboard 200 charts, recruiting 6,000 or more fans its first week); By Choice Or By Force; and Atlanta 2 Memphis, a collaboration album with Memphis own Criminal Manne. The last 2 record labels that Pastor Troy was signed with according to Wikipedia was SMC (Stay Tru, Tool Muziq) and Money and Power Records (Face Off Part 2, Atlanta 2 Memphis).
Pastor Troy dropped his 16th solo Ready For War in 2009, and then released 7 more studio albums up to 2011. It's seems crazy how a couple years back, I heard that Pastor Troy signed to Cash Money but I don't think that they ever released his album under their label doe. There's a lot of great artists in the industry, but you never of them because some of the royalties that the label gets don't go towards the marketing of the product.
Within his discography, PT has multiple group/ collaberative albums in his ruck sack: The Last Supper (2001) and Til' Death Do Us Part (2003) along with Book I (2000) with The Congregation. But don't sleep on this Militant MC, he is also a producer which he did the beats for the songs listed below:
Book I (by Pastor Troy & The Congregation):
"Havin' A Bad Day"
Face Off:
"This Tha City"
"My Niggaz Is The Grind"
"Move To Mars"
"Throw Your Flags Up"
"No Mo Play In GA"
"Eternal Yard Dash" with Big Toombs
"Oh Father"
Universal Soldier:
"Universal Soldier"
"Bless America"
Face Off (Part II):
"WWW (Who, Want, War)"
"Where Them Niggaz At"
"Respect Game"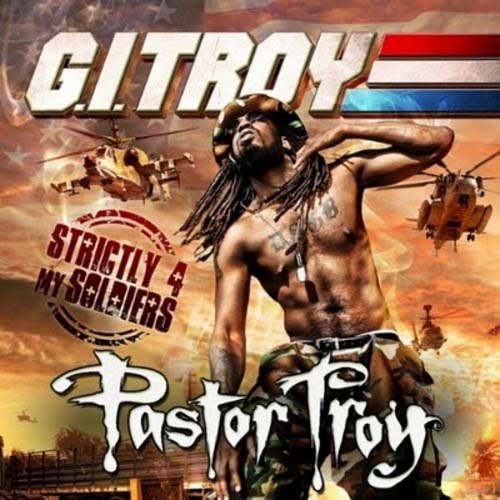 Tool Muziq:
"I'm Down"
D.S.G.B. - The Last Supper:
"We Dem Georgia Boyz"
"My Folks"
"Brang Ya Army"
"Above The Law II"
"Southside"
"Repent"
D.S.G.B. - Til Death Do Us Part:
"I'm Outside Ho"
"Sittin' On Thangs" with Taj Mahal
On June '12 he dropped his latest CD entitled
The Law OutLaw
, also he starred in the film
We Was Homeboyz
featuring Mr. Mudd, Tanisha Stewart, Big Mike & Shawty Lo; which will be coming to television near you. Recently, Pastor Troy has
D.S.G.B. Radio
airing live on AM 1100 in Atlanta, G.A., when you get a chance listen in to
"The South's Realest Souljaz"
. Check out the new video from MJG with Whoo Da Kidd entitled
F*** That
. Ain't No Play In G.A. LI Salute....